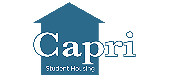 Your Review
Submit a Review

Resident Reviews
|Recommended: Yes
Decent for price — It's one of the cheapest places that include its shower and stuff. TV and wifi are nice perks too. Sometimes figuring things out are a bit confusing, but just ask staff, and they'll help you.
Thanks for your kind words. We look forward to serving you and are happy to help when you need us!
|Recommended: YesGood place to live for the price — For the price this place is a very good deal. If you're a college student looking to save money and live in a really good location I highly recommend living here.
|Recommended: YesWoodside Manor 4x4 Review — Given the price, this is a great place to live. The rooms are spacious and nice, and the location is unbeatable. I wish we would've been able to fully tour an apartment before signing a lease, but we could only tour one bedroom. The Capri staff is extremely nice and helpful, and they even have a cat in their office hi Patches .
|Recommended: Yes
Clean, quiet, and convenient — Everything left clean and tidy before you move in and there isn't much noise from the neighbors. The staff is really friendly and great to work with, and this is a great location especially for the price.
Thank you so much for the feedback, so happy to hear you are enjoying your time with us.
|Recommended: YesGood for the price — For the price I'm paying, I believe this is a good first apartment for students. I've only had a few difficulties since moving in, but the majority of them are out of Capri's control e.g. street noise, for some reason this one car really like to speed past the complex in the middle of the night, and noise from the surrounding sororities and fraternities so I don't fault them for those. There's a good amount of storage as well.
|Recommended: YesOffice is helpful — The office is helpful and responsive
|Recommended: Yes. — .
|Recommended: YesThe property is nice. — I would tell them that the property is very nice and all of the staff members are welcoming.
|Recommended: YesNice, Modest Student Housing for a Suitable Price — It is a nice place for students, very close to campus. Living here allows me to have more space and privacy compared to on-campus dorms, and for a very reasonable price.
|Recommended: Yes
Affordable and encompassing of most of what I need — It is like living on your own but sharing a kitchen with other's.
Thank you so much for your review, so glad to hear you're enjoying your living space.
|Recommended: Yes
I really love it so far — The studios are amazing, I am in a deluxe and I could not be more pleased with the space and room for storage. I love how the TV comes with the apartment because that took away the huge hassle of finding one and bringing it here on my own. The courtyard is really nice to look out to and the sunlight in the apartment is really nice.
Thanks for you review. We appreciate the way you described your living experience in our studio apartments. That is a wonderful building and we are glad you are so happy there!
|Recommended: Yes
The property is nice for a first year students or those moving from out of state. — I appreciate this property as a first apartment, it is conveniently located to campus, and the staff is nice. As someone who moved from out of state, it was helpful to have a place like this to go to. However, after my lease is up I will look to move to another place away from Greek Life.
Thanks for your review Skyler. Hopefully things will die down a bit after school starts up. It can get a loud around campus. Let us know if we can be of help. Your Capri Staff
|Recommended: Yes
Great layout, close to UO campus. — Great location, if you go to the University of Oregon, campus starts right across the street. The layout is great in how you each get your own bathroom and space. Large balcony and a TV is included in the living room. The fact that furniture is included is very convenient.
Thank you so much for your review, so glad to hear you're enjoying your living space.
|Recommended: YesFine — Nice